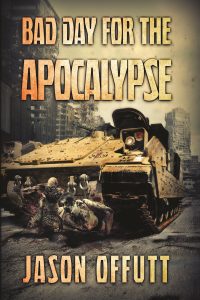 "Bad Day for the Apocalypse"
Watching the world die sucks.
Waitress Nikki Holleran is having a bad summer. Dying father, college struggles, people calling in sick from work. But when a restaurant patron vomits blood and collapses at her feet, she realizes this bad summer might get worse.
A revolutionary antidepressant, Ophiocordon, gives its users an immediate euphoria that sails with them until their next hit. The pharmaceutical industry says Ophiocordon is perfectly safe, but is it? A mystery illness people call The Piper linked to Ophiocordon has appeared across the globe. The Piper kills its users, but that doesn't stop them from walking.
While Nikki, mechanics Doug Titus and Terry Jenkins, and spoiled college girl Jenna Mullins drive north to find a safe place to ride out the apocalypse, unhinged Maryanne Davies and her collection of psychopaths are on their way north too, toward a deadly rendezvous none of them suspect.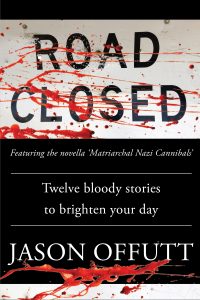 "Road Closed: Twelve bloody stories to brighten your day"
Uncover small-town secrets, investigate an unsolved murder a lonely man keeps witnessing again, and again, and feel the terror of a little boy who discovers Santa is more than what he seems.
"Road Closed" is Jason's first book of short fiction. It's available in print and as an ebook.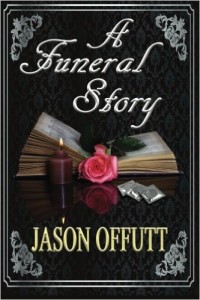 "A Funeral Story"
Deever Dickson is a pretty normal guy. He has a job, bowls, and games with friends, but he has a secret. A secret so creepy Deever can't tell anyone – he has sex with strangers at funerals. Then he meets  Marissa, a beautiful woman who's just as creepy as he is. When one of Deever's best friends dies at a science fiction convention, his relationship with Marissa goes all wonky. Filled with romance, death, and beer, "A Funeral Story" tells the life of a normal guy who does abnormal things.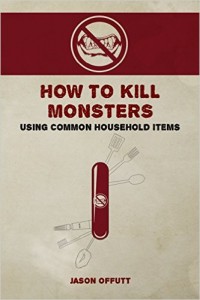 "How to Kill Monsters Using Common Household Items"
The human race is heading for doom. Demon clowns, zombies, and bears with machine guns are trying to kill us. What can you do if one of these creatures of the damned breaks into your home? You kill it, you kill it dead. And here's how.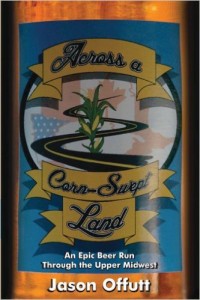 "Across a Corn-Swept Land: An epic beer run through the Upper Midwest"
This book details my trip through the crop-covered wonderland of Middle America. I travel from Northwest Missouri to Fort Frances, Ontario, on my search for history, weirdness, and good beer.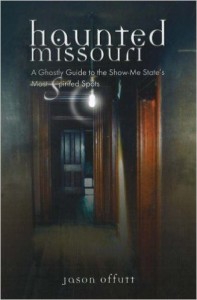 "Haunted Missouri: A ghostly guide to the Show-me State's Most Spirited Spots"
I like ghosts. I don't like seeing ghosts (yes, I've done that), but I do like books about ghosts. Most books on haunted houses, however, have one thing in common – they tell stories about the spectral spooks that haunt places I can't visit. Darn it. So I wrote "Haunted Missouri," a ghost-filled guidebook to my home state. Each spot in this book open to the public – I even supply directions. So map out your trip and prepare to get scared.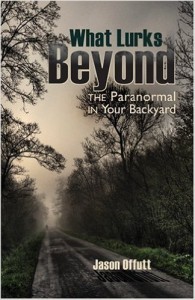 "What Lurks Beyond: The paranormal in your backyard"
What's outside your back door? One day I decided to look for myself, and discovered a world of darkness, and shadow. Within 100 miles of my house I found cases of demon possession, alien abduction, time travel, hauntings, and a mind-reading dog. Okay, that last one wasn't so spooky. My research showed me that the world outside our door isn't what we think it is – it's a whole lot stranger. Go ahead, take a look.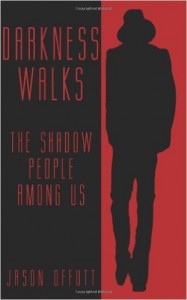 "Darkness Walks: The Shadow People among us"
Shadow People. These blacker than night human shaped entities at best simply lurk in the periphery of our vision, but at worst loom over us in our waking lives. Millions of people the world over have encountered these beings, but what are they? Ghosts? Dreams? Or something worse? In my quest to discover the identity of these shadowy figures, I interviewed hundreds of eyewitnesses, along with experts in the major religions, psychology, physics, and metaphysics. What are Shadow People? What do you think?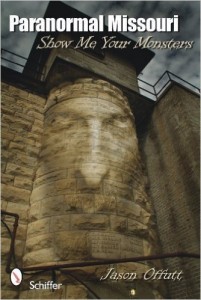 "Paranormal Missouri: Show me your monsters"
Missouri, it's not just for barbecue and baseball – the Show-me state is for fans of the supernatural. This state is filled with ghosts, Bigfoot, time slips, terrifying Ouija Board encounters, haunted abandoned hospitals, and other things that go bump in the night. Come on down for a visit, you may never leave.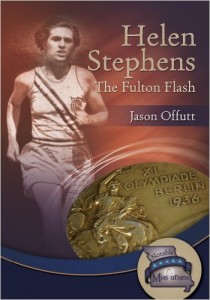 "Helen Stephens: The Fulton Flash"
In an era when girls' sports lacked importance in America, Helen Stephens from tiny Fulton, Missouri, brought female athletes into the limelight. Matching world speed records when she was only 15, Stephens went on to win two Olympic gold medals, and spend a lifetime promoting women's sports. This non-fiction book is in the series "Notable Missourians" for readers in grades four through six.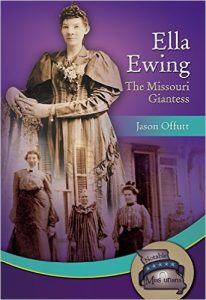 Ella Ewing: The Missouri Giantess
Ella Ewing grew up on a farm in the 1880s. She learned how to tend house like any farm girl, but Ella was far from ordinary. By the time the Missouri Giantess stopped growing, she was 8'4" tall, making her the tallest woman in the world. She toured with the Barnum & Bailey Circus, Buffalo Bill's Wild West Show, the Ringling Brothers Circus, and was exhibited at two World's Fairs. This non-fiction book is in the series "Notable Missourians" for readers in grades four through six.