Jason's Book of Short Horror is NOW Available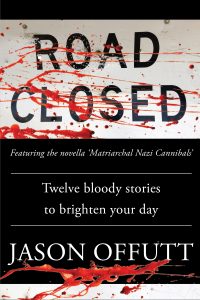 February 31, 2017 – Take a walk with Jason Offutt on his trip through the bleak periphery of this world.
Uncover small-town secrets, investigate an unsolved murder a lonely man keeps witnessing again, and again, and feel the terror of a little boy who discovers Santa is more than what he seems.
"Road Closed" is Jason's first book of short fiction. It's available in print and as an ebook.
A Little Love from the Local Press
October 14, 2016 – A preview of my upcoming talk in The Maryville Daily Forum.
Recent Radio Appearances
August 20, 2016 – Catch Jason Offutt talking shadow people, ghosts, cryptids, time travel, and writing tips on his most recent radio interviews, The Unexplained With Howard Hughes, and Paranormal Science Lab.
New Offutt Novel Coming Soon
May 14, 2016 – Jason Offutt's next novel, a sci-fi/horror work, has just been acquired by Strigidae Publishing, the publisher of his novella "Matriarchal Nazi Cannibals." This is Jason's second novel, and his first full length sci-fi/horror tale. More details soon.
Signing Books and Drinking Beer
March 30, 2016 – Books and booze? Awesome.
Join Jason Offutt at his hometown library for "Beer and Wine for Books."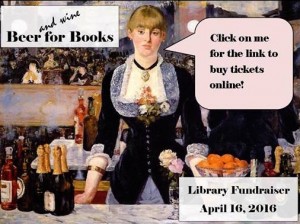 The Maryville (Missouri) Public Library is hosting an event featuring local artists, music, and a silent auction. Appetizers provided by Wabash Junction restaurant will be paired with handpicked wine and beer selections from Hy-Vee Grocery.
Proceeds for this casual get-together go toward the library's book and programming budget (it's a good cause, friends). All ticket holders must be 21 or older. Tickets (with tax) are $43.19, and are available at www.eventbrite.com.
WHEN
WHERE
Maryville Public Library, 509 N. Main St., Maryville, Missouri 64468.
Jason will sign copies of his books, join you for a drink, and might even talk baseball because, you know, America.
'Matriarchal Nazi Cannibals' is Here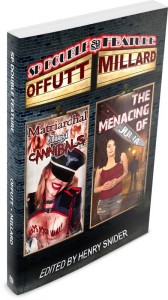 MARCH 7, 2016 – Jason Offutt's novella, "Matriarchal Nazi Cannibals," is available for order at Amazon.com.  It is is part of a double feature from Strigidae Publishing in one volume, teamed with the novella, "The Menacing of Julia," by Adam Millard.
From the book jacket:
MATRIARCHAL NAZI CANNIBALS
by Jason Offutt
Hölle is a cute little town of 500, nestled in the half-forgotten hills of Missouri. The only industry still floating among the cluster of buildings is the meat packing plant…well that and Gretta's cafe. Smiles from the townspeople are a little too broad…a little too lingering…and appear just a little too hungry.
Heidi Gottschalk and her friends hit town from the university hoping to finish a film project before the semester's over. Stranded in Hölle, the friends find out just how lively the night life can be.
Enjoy.
'Matriarchal Nazi Cannibals' is Inching Ever Closer
FEBRUARY 17, 2016 – I don't have bad dreams, not really. Especially considering those people who wake screaming from sleep, drenched in sweat as they pant themselves back toward sanity. They have bad dreams. Not me.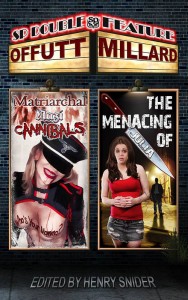 Sure, I've dreamed I peed the bed, and woke patting myself just to make sure everything wasn't second grade all over again. I also woke one morning overwhelmed with sadness because my sleeping mind had given my wife a brain tumor. Not cool, Jason's Head. Not cool.
But usually Jason's Head does just fine by itself in the lonely hours of darkness. Zombies, crypts, dusty maze-like Victorian houses are all welcome sights when I close my eyes. And sometimes those dreams of doom and horror produce an idea that latches onto me like a lamprey. "Matriarchal Nazi Cannibals" is one of those creeptacular ideas I woke up with as a fully formed novella because I saw it in my dreams. For my fellow writers, it pays to keep a notebook and pen next to your bed.
That novella has been accepted by Strigidae Publishing, and is slated for publication this Spring in a double feature with the novella "The Menacing of Julia."
'Road Closed' is Almost Open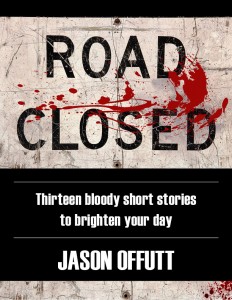 FEBRUARY 14, 2016 – Some stories need to be told in one book, some in two. My all-time favorite series, "The Lord of the Rings," needed three. For my fellow Harry Potter fans, the story of the young wizard could have kept going until he was a geriatric wizard. I'll hand you piles of cash, J.K. Rowling, just keep writing. But some stories have to be told – beg to be told – in 200 words, or 2,000, or 10,000.
I've written a few of those stories over the years. Some of my short pieces have appeared in magazines, some are brand new, and thirteen hand-picked works are coming this Spring in the volume, "Road Closed." Given the wildly different subjects I've written on over the years, what's the theme? History? Humor? Horror?  Well, the cover's splattered in blood. You can figure it out.
Praise for "A Funeral story"
JANUARY 22, 2016 – Hey, somebody likes me.